Adventure Time Season 9 Episode 8
The Video Is Slow ? Use a vpn or a different browser.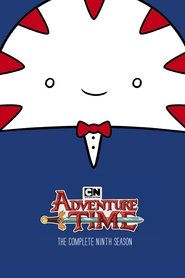 Adventure Time Season 9 Episode 8
Lumpy Space Princess chases Finn and attempts to turn him back to normal, but to no avail. Ice King and Betty try to intervene, but are swatted away by Flame Princess. The Fire Kingdom inhabitants 'fight' the Candy Kingdom inhabitants making Lumpy Space Princess upset. After eating some of Marceline, who is made of marshmallows, Lumpy Space Princess reaches out to Finn's hero heart by placing some of Princess Bubblegum onto him. Recalling happier times with PB, Finn returns to normal. PB then fires her candy powers into the air and converts everyone into obedient candy people, except for Finn who was protected by Lumpy Space Princess. Finn nabs the three jewels and gives them to Betty, but she leaves him behind. Finn finds himself surrounded by the Candy Kingdom.
Episode Title: Elements Part 7: Hero Heart
Air Date: 2017-04-27
Year: 2017