Adventure Time Season 9 Episode 6
The Video Is Slow ? Use a vpn or a different browser.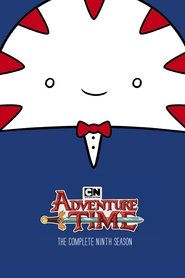 Adventure Time Season 9 Episode 6
Finn and Jake arrive in the transformed Slime Kingdom to retrieve Slime Princess' crown for her jewel. They run into Lumpy Space Princess who is attending Slime Princess's roller skating party. The winners of the skating competition get absorbed into Slime Princess's whole being while the losers are caged up. Finn, Jake and Lumpy Space Princess enter, but lose, only to learn that by losing they still get absorbed. While Finn manages to grab the crown, Jake gets fully absorbed into Slime Princess forcing Lumpy Space Princess to save Finn, revealing in the process that 'her lumps' protect her from corruption. They are ejected from Slime Princess and forced to leave. Finn is saddened at the loss of Jake, but Lumpy Space Princess explains that Finn and Jake always win which inspires Finn to continue his mission.
Episode Title: Elements Part 5: Slime Central
Air Date: 2017-04-26
Year: 2017