Adventure Time Season 9 Episode 2
The Video Is Slow ? Use a vpn or a different browser.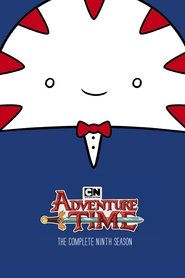 Adventure Time Season 9 Episode 2
Finn, Jake and BMO arrive back in Ooo and discover that their home and the areas surrounding it have been entirely converted into candy. They also encounter Fern, N.E.P.T.R., Shelby, Lemongrab, Tree Trunks, Mr. Pig and Marceline who have been converted into happily brainwashed candy people. A frightened Sweet P is the only person who is still normal and directs the gang to a mysterious candy tower. The tower turns out to be Princess Bubblegum who has become a large candy being and attempts to convert the gang into candy people as well. While BMO is completely transformed, Finn and Jake are rescued by Ice King who takes them to the Sky Kingdom. As Finn and Jake look down, they discover that Ooo has been divided into four completely corrupted sections.
Episode Title: Elements Part 1: Skyhooks
Air Date: 2017-04-24
Year: 2017