Adventure Time Season 9 Episode 13
The Video Is Slow ? Use a vpn or a different browser.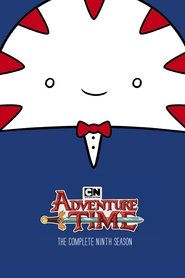 Adventure Time Season 9 Episode 13
While fishing, Finn and Fern encounter Sweet P who was running away from home after having a nightmare. Sweet P reveals that he has been having visions of a "whisper monster" trying to tell him he is evil. Finn and Fern decide to camp with Sweet P when they encounter the hand of the Lich that was cut off in "Crossover". Finn and Fern fight the Lich's hand, but it escapes. Finn gives chase and follows it into an underground tunnel where he ends up getting rescued by Sweet P (he had knocked out Fern so he could escape) who slays the hand. Fern feeling useless for not being able to help, plots to become the true Finn.
Episode Title: Whispers
Air Date: 2017-07-20
Year: 2017