Adventure Time Season 9 Episode 12
The Video Is Slow ? Use a vpn or a different browser.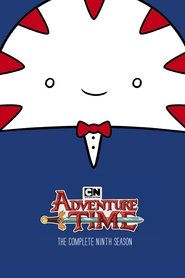 Adventure Time Season 9 Episode 12
At a Fionna and Cake book reading by Ice King, an old woman claiming to be Fionna (voiced by Charlotte Newhouse) arrives with a tape of an early Fionna and Cake adventure. Ice King is enamored by "Fionna" and invites her to stay with him. At night Ice King watches the remainder of the tape where Fionna and Cake find a mummy (voiced by Chelsea Peretti) only to learn that the mummy is really the Queen of Ooo. Ice King misinterprets the video and thinks that "Fionna" is a mummy. He confronts her and discovers that she was looking for more Fionna and Cake tapes only to find that Ice King doesn't have any. "Fionna" is really a bunny who picked up signals that played Fionna and Cake and wanted more. When she realizes what she has done she flees. Later that night, Fionna and Cake adventures are beamed into Ice King's head.
Episode Title: Fionna and Cake and Fionna
Air Date: 2017-07-19
Year: 2017