Adventure Time Season 9 Episode 11
The Video Is Slow ? Use a vpn or a different browser.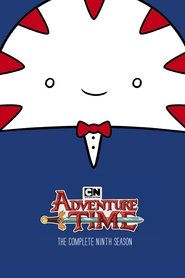 Adventure Time Season 9 Episode 11
Marceline is unexpectedly visited by BMO causing the former to ask BMO to download a USB drive. While they wait, BMO tells the story of when it, Finn and Jake traveled the seas. However, the story is mostly inaccurate and involves a cat named Ted and a blue jay that says "OOOOOOHH!" (voiced by J. G. Quintel). Marcy then tells the story of "Lollipop Girl" and "Rock Star Girl" and their encounter with a "Blue Tranch" that resulted in "Weekend Island" getting taken over by potatoes. When the USB drive finally downloads, it reveals pictures of young Marcy with her mother. She feigns knowing them and asks BMO to tell their story resulting in a tale about "the Child and the Moon Girl" which Marcy thanks BMO for.
Episode Title: Ketchup
Air Date: 2017-07-18
Year: 2017